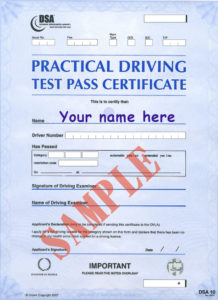 The driving test
You can apply for your driving test anytime after passing your theory test. Your instructor can apply for you.
You can do it yourself on line at www.dsa.gov.uk by telephoning the Driving Standards Agency on 0870 0101372. Please quote your instructors ADI number to prevent double booking.
New practical test from Dec 2017
The updated driving test.
Independent driving will increase to 20 minutes.
Reversing manoeuvres are changed, the pupil will do one of the following.
Parallel park at the side of the road.
Pull up on the right-hand side of the road , reverse for 2 car lengths and rejoin the traffic.
Park in A bay.
Answer the "show me" question while driving.
The Pass mark, length of test and cost not changing.
Are you ready to take your test?
On your driving test will be the first time you have to drive unaided. The examiner is there to assess your driving, he expects you to be able to deal with any situation that arises. The learners who pass first time are the ones who are well instructed and take the advise of there instructor, our mock tests will help you assess your level.
The test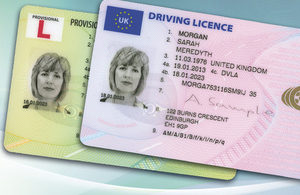 Documents, you need to present both parts of the Photo card licence (The Photo card and the paper counterpart) if you have the old style licence you need to take additional photo ID (your passport)
Eye site test
You must be able to read a car number plate from 20 meters. You may read the number plate with glasses or contact lenses.
Maintenance questions
You will be asked by the examiner to show or tell how you would perform various car safety checks. (We have included a comprehensive list with the questions and suitable answers)